Central Park Bellavista Towers
The new residential floors project known as the Central Park Bellavista Towers at Central Park Resorts is located in sector 48 Gurgaon. This meticulously strategic project intends to deliver these ultra-luxury apartments with world class amenities along with a cutting edge Japanese finest luxury lifestyle.
The new launch fully-furnished, ultra-luxury studio & 1 BHK apartment at Central Park Resorts, Sector 48, Gurugram promote a Japanese lifestyle. To master the essence of opulence Central Park took a deep dive into the cultural nuances of Japan to capture the values that form the foundations of an authentic luxurious experience where every day feels like a 5 Star retreat. At Central Park Resort Gurgaon, residents can avail concierge facilities in a personalized manner. Revel in a laid back lifestyle with expansive Studio apartments and 1 BHK apartments which are an excellent choice for nuclear families as well as singles.
After the success of Central Park The Room, Central Park Resort would be a great option for residents who crave for extravagance and convenience at their fingertips along with a 5-star living experience. Top-notch amenities and facilities have been incorporated with everything available on call giving you a better experience than residing in hotels. These fully furnished service apartments are precisely designed for corporates who want to have a deluxe living experience and do not have the time to take care of routine chores. Experience a home away from home at Central Park Bellavista Towers at Central Park Resorts .
Highlight:
Bang on Sohna Road.
Built on a Japanese theme with 5 star hospitality services.
3 tier 24/7 security with CCTV coverage.
Centralised air purification system.
High return on investment.
84000 sqft club across 5 levels with luxurious amenities.
Differently able friendly complex.
6 lifts for easy connectivity within the floors.
Fully furnished air-conditioned rooms with automation.
Modular kitchen and wardrobes.
Massive wrap around balconies with glass railing.
Double glazed windows with toughened thermal resistant glass panels.
Pet friendly complex.
Children's terra park, aqua park and sports facilities.
World class schools, hospitals and malls in near vicinity.
Location Advantages:
This awe-inspiring residential project is located in sector 48, Gurgaon.
From here you can stay connected to most prime spot IGI Airport which just takes 25 minutes drive
12 minutes to Golf Course Extension Road
Many commercial and IT hubs are in Gurgaon so the employment chances are quite higher
Many MNCs are located in the radius of 10 km
Direct connectivity to Delhi border, Faridabad and Noida
The project is proximity to well-established schools, reputed hospitals, retail shops, eateries and cafe.
Amenities:

Banquet Hall

Yoga Room

Cycling

Fully-Loaded Gymnasium

Cricket Net

Games Room

Spa

Kids'Play Zone

Tennis Court

Badminton Court

Library

Guest Suites
Specifications: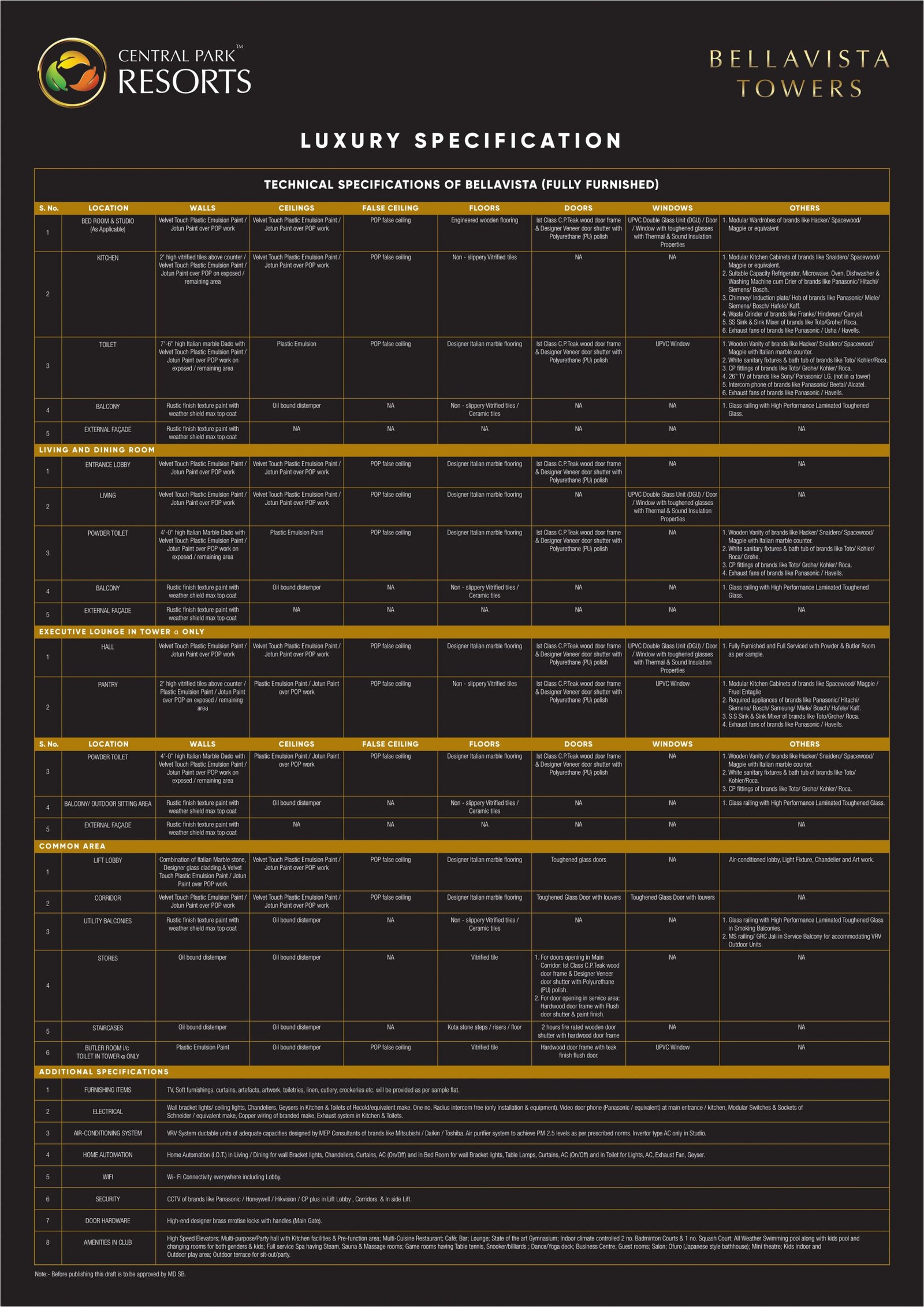 Price List:
Central Park Bellavista Towers Project Details:

Total no. of
359 units
Total no. of
32 floors
No. of units
13 apartments on each floor
Type:
Studios
165
1 BHK
194
Salable Area:
Studios
1065-1217 Sq. Ft.
1 BHK
1356-1607 Sq. Ft.
Price with Leasing Assistance
18000/sft without PLC
Price with Guaranteed Return of 6% after possession for 36 months :-
23000/sft without PLC
Possession in 3 years
Price List(Studio)
Particulars
PLP
CLP(-8%)
DP(-14%)
All Inclusive Price (BSP, Car Parking 1 No., 5KV Power Backup, ECC & WCC
18039
16676
15654
Less : Inaugural Discount
1000
1000
1000
Net All Inclusive Price
17039
15676
14654
EDC/IDC
111
111
111
Total Without GST
17150
15786.88
14764.54
GST @ 5%
852
784
733
Total With GST
18002
16571
15497
1BHK
Particulars
PLP
CLP(-8%)
DP(-14%)
All Inclusive Price (BSP, Car Parking 1 No., 5KV Power Backup, ECC & WCC
20039
18516
17374
Less : Inaugural Discount
1000
1000
1000
Net All Inclusive Price
19039
17516
16374
EDC/IDC
111
111
111
Total Without GST
19150
17626.88
16484.54
GST @ 5%
952
876
819
Total With GST
20102
18503
17303
Payment Plan:
POSSESSION LINKED PAYMENT PLAN (39:61)
S.No.
Time When Due
Details Of Payment
1
Booking Amount
Rs.11 Lacs (Lumpsum)
2
Within 45 Days of Booking
To Complete 10% of COP Less Amount Paid
3
Within 90 Days of Booking
29% of COP
4
On Offer of Possession
61% of COP
DOWN PAYMENT PLAN (10:80:10)
S.No
Time When Due
Details Of Payment
1
Booking Amount
Rs.11 Lacs (Lumpsum)
2
Within 45 Days of Booking
To Complete 10% of COP Less Amount Paid
3
Within 90 Days of Booking
80% of COP
4
On Offer of Possession
10% of COP
CONSTRUCTION LINKED PAYMENT PLAN
S.No.
Time When Due
Details of Payment
1
Booking Amount
Rs. 11 Lacs (Lumpsum)
2
Within 45 Days of Booking
To Complete 10% of COP Less Amount Paid
3
On the start of Construction
15% of COP
4
On Completion of Upper GF-2 Floor Slab
7.5% of COP
5
On Completion of 5th Floor Slab
7.5% of COP
6
On Completion of 10th Floor Slab
7.5% of COP
7
On Completion of 15th Floor Slab
7.5% of COP
8
On Completion of 20th Floor Slab
7.5% of COP
9
On Completion of 25th Floor Slab
7.5% of COP
10
On Completion of Super Structure frame work
10% of COP
11
On Completion of Flooring work
10% of COP
12
At the time of Offer of Possession
10% of COP